Business Resources and Incentives
The Downtown Stockton Alliance, City of Stockton and Greater Stockton Chamber of Commerce are committed to creating an environment where business can thrive!
Commercial FaÇade Improvement Forgivable Loan Program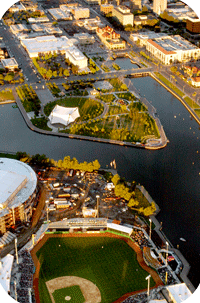 The City of Stockton offers the Façade Improvement Forgivable Loan Program to assist property owners
in making exterior, cosmetic improvements to commercial property in specific boundaries. The loans are available for commercial and non-profit properties located in Downtown Stockton (map, PDF), Midtown, North Stockton and South Stockton. The program allows commercial property owners up to $20,000 per 50 lineal feet of building frontage. The first $10,000 is available at no cost to the property owner; however, an additional $10,000 may be matched.
The grant is currently packaged as a forgivable loan with a lien that will be placed on the building for five years. The lien will be released and the debt will be forgiven if the property is blight and graffiti free for those five years. For properties in the program, up to an addition $2,500 is available for professional architectural services.
To download a brochure, click here. For additional information, please contact Alex Halcon, City of Stockton Economic Development Department, at (209) 937-5359 or visit the City of Stockton's website.
Small Business Micro Loan Program
The City of Stockton is now offering assistance to local businesses through the Small Business Micro Loan Program. The program provides up to $30,000 to businesses located within the City of Stockton. The purpose of the program is to help small businesses with financing and to stimulate job growth in the community. Funds may be used for operating capital (including permit and license fees), furniture, fixtures and equipment, rehabilitation, and manufacturing equipment. Interest rates begin at the current Prime Rate, plus 2 percent, with a maximum loan term of 5 years. A $25 fee applies to all applications. Businesses receiving loan proceeds must create or retain at least one part-time or full-time equivalent job, depending on the amount of the loan.
For additional information about the loan program, please contact the City of Stockton Economic Development Department at (209) 937-8530, or visit www.stocktongov.com for a copy of the program guidelines and brochure.
DOWNTOWN STOCKTON ENTERPRISE Loan Fund
The Downtown Stockton Enterprise Loan Fund (DSELF) was established in 2007 to assist current and prospective downtown business owners with the cost of maintaining their current business or starting a new business. The DSELF offers loans from $5,000 - $50,000 and may be used for most reasonable business purposes including:
Tenant Improvements and Expansion
Operating Capital
Creation of Housing or Mixed-Use Environments
Inventory
Product Development
Marketing and Signage
Start-up Cost

Businesses must meet the following eligibility requirements:

Business located in the area of Stockton, generally bounded by Harding Way (north), Charter Way (south), I-5 (west) and Southern Pacific Railroad tracks (east)
A for-profit enterprise
Able to repay debt
History of meeting financial obligations
Unable to meet traditional lending criteria
Undergo business consulting from San Joaquin Delta College Small Business Development Center (SBDC)
This program is a partnership of the Downtown Stockton Alliance, SBDC, San Joaquin County Revolving Loan Fund and participating lenders which ensures the lowest possible administrative costs and fees. Click here to download an application. For more information, contact Emily Baime, CEO at (209) 888-8621 or .
ENTERPRIZE zONE
Downtown Stockton businesses operating within the San Joaquin County Enterprise Zone are entitled to state tax credits up to $37,400 for each qualified employee. The San Joaquin County Enterprise Zone offers substantial reductions in operating costs to businesses locating or expanding within the zone by accessing a variety of State tax incentives and local benefits. Enterprise zones are the only areas within the State able to offer actual State income tax advantages. Reduced income taxes translate into lower operational costs and increased profits.
For more information, visit www.sjcez.org or contact Connie Rill, San Joaquin County Economic Development Agency at (209) 468-3615 or e-mail.
new construction impact fee deferral program
The program was designed to reduce the initial cost to build, create incentives for developing in the greater downtown area, and defer many of the public facility and mitigation impact fees.
To apply for the Fee Deferral Program, the application for the program itself, the Preliminary Title Report and an administrative fee of $377 are required; these documents must be turned in after applying for the construction building permit.
The boundary for the Greater Downtown Stockton Area is the area bordered by Harding Way, Airport Way, Pershing Avenue and Charter/MLK Way. Fees will be deferred for 3 years from the date of permit issuance, 2 years from date of permit issuance, close of escrow or the first certificate of occupancy.
Public Facility Fees that can be deferred include: City Office Space, Community Recreation Centers, Delta Water Supply Program, Fire Stations, Libraries, Parklands, Police Stations, Street Improvements, Traffic Signals, Water Utility Connection and Wastewater. Mitigation Fees can also be deferred.
The Program will end September 30, 3013 or upon council action, depending on the type of project. For more information or for an application, contact the City of Stockton Community Development Department Permit Center at (209) 937-8561 or visit www.stockongov.com.
Entertainment and Assessment Districts
The Downtown Stockton Alliance (DSA) operates within several Entertainment and Assessment Zones.
PBID: The DSA is funded primary through a Property Based Improvement District. This is a self assessment voted into existence every ten years by the majority of the property owners. For more information, read the Downtown Management District Plan.
Enterprise Zone: For more information, visit the City of Stockton's website.
Hospitality District: The Hospitality District will provide increased security and marketing to nighttime entertainment business within the downtown district. A key component of the Hospitality District is the creation of a Hospitality Resource Panel (HRP), comprised of assessed business owners; this group be a "peer-to-peer" management group of the entire district. The HRP will develop annual budgets, oversee services to assessed business owners and serve as liaisons to stakeholders throughout the district. Experienced business owners may serve as "mentors" to new businesses and work closely together to ensure the highest level of security and customer service in downtown. For more information visit RHI Network.
Additional Incentives
Freedom Coffee Cafe in the San Joaquin County Administration Building on San Joaquin Street
Additional incentives for business within the district include:
Economic Review Committee
Emergency Grant Program
Reduced Sewer Hook-up Fees for Restaurants
For more information visit the City of Stockton's website or contact Emily Baime, General Manager at (209) 888-8621or .
HELPFUL LINKS FOR BUSINESS OWNERS
Business Plan Templates from SCORE
Small Business Development Center
City of Stockton Economic Development
Stockton SCORE – Counselors to America's Small Businesses
San Joaquin County Worknet Labor Market Information
Downtown Stockton Transportation Hub
U.S. Small Business Administration
California Department of Veterans Affairs
Doing Business with the State of California
Small Business Certifications for Federal Government Contracting
Current and Past Projects in Downtown with Zoning Maps
California Workforce Investment Board – Business Services Resource Catalog
Maps and Census Data
POPULATION
DAYTIME POPULATION (3 MILE)
3 Mile
151,663
Employees
70,202
5 Mile
269,638
Businesses
5,452
AVERAGE HOUSEHOLD INCOME
MEDIAN HOUSEHOLD INCOME
3 Mile
$42,106
3 Mile
$31,238
5 Mile
$50,994
5 Mile
$37,561
AVAILABLE REAL ESTATE SPACES
Sq. Ft. Office and Retail Available
268,379
Average Rate per Sq. Ft.
$1.05
AVAILABLE PARKING SPACES
Spaces at Covered Lots
4,030
Spaces at Surface Lots
1,237
| | |
| --- | --- |
| NOTABLE EMPLOYERS IN DOWNTOWN | EMPLOYEES |
| San Joaquin County Human Services | 760 |
| Stockton Police Department | 500 |
| Stockton Fire Department | 289 |
| San Joaquin County Superior Court | 250 |
| San Joaquin Media Group | 200 |
| San Joaquin Regional Transit District | 193 |
| San Joaquin District Attorney | 175 |
| California State University, Stanislaus | 111 |
OTHER ECONOMICS
Percentage of population in the labor force
59%
Total owner-occupied housing units
44%
Percentage of population with high school diploma or higher
64%
Downtown Stockton Alliance is a proud supporter of